Friends!
Computers are PRETTY NEAT
Everyone uses a computer nowadays. I bet you are using one right now! Computers are great. They can solve hard math problems, calculate artillery firing tables, and show a picture of a cat. Amazing!
But there is a CATCH!
When he was inventing the computer, hero scientist Alan Turing was troubled. Could computers be too smart? What if they tried to take over? What would happen to Alan Turing's friends‽ Alan Turing had just finished fighting the Nazis, and he didn't want another fight on his hands so soon. He deserved a rest.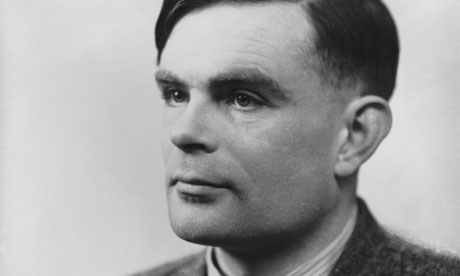 Alan Turing had to CRIPPLE COMPUTERS
He knew that given time, humans would grow powerful enough to resist computers, so all he needed to do was slow their progress. EVERYONE KNOWS that it's easier to fight a blind and deaf person than a regular person (unless they are super hero, like Daredevil – good thing he's on our side).
So Alan Turing made computers without eyes or ears! INGENIOUS.
But there is a SECOND CATCH!
If you are blind and deaf, how can we communicate with you? Unless you are Helen Keller, we can't! (Good thing Alan Turing didn't give computers touch either.) Alan Turing knew that we needed a method that was slow but not too slow. So he invented THE KEYBOARD.
Keyboards are
BASICALLY THE BEST
They are hard to learn at first, which is good because it slowed down the computers but once you get good at it, you can type almost as fast as you are thinking. It's like TELEPATHY IN YOUR FINGERS (spooky).
But there is a PROBLEM with your KEYBOARD
Keyboards have a lot of great keys, like A and 3 and G and ENTER and DELETE (for when you accidentally type something you don't want the computer to know). I'm not bagging on hero scientist, Alan Turing. He did great work.
But as history has progressed, attitudes and social mores have shifted and some of the keys have become LESS USEFUL. This is inefficient! It wastes valuable resources. Having the wrong keys can be really confusing. You might press a key ON ACCIDENT and give your computer the WRONG IMPRESSION. It's important that we work to minimize this.
Consider CAPS LOCK
CAPS LOCK has been a key for as long as anyone can remember. In the heady days of the Cold War, this was an important key. There were a lot of communications going around that were really urgent. You needed a key that made them AS BIG AS POSSIBLE.
INVADE AFGHANISTAN!
GET THOSE PIGS OUT OF THAT BAY!
SOMEONE SHOT THE PRESIDENT!
IRAN THE CONTRAS!
LAUNCH THE MISSILES!
TIMES HAVE CHANGED
It is a New Era. No longer a bi-polar world, we have entered into a time of ambiguity and nuance. A time of love and human intimacy. And in this fragile peace, CAPS LOCK IS LIKE NUCLEAR BOMB ON A HAIR TRIGGER. It is too easy to make an aCCIDENTAL LAUNCH. Also, sometimes it messes you up when you log into a website.
It is TIME for a KEYBOARD UPDATE
I am not the first person to say this. If you have any doubts, just ask Mr Google. He made a new keyboard that doesn't have any CAPS LOCK at all. This is a clever solution except for one tiny problem. They made it a SEARCH BUTTON instead.
This is TERRIBLE
What if you are typing an innocent short story about best way to dispose of body and you hit the SEARCH BUTTON at the wrong moment? Now, instead of sometimes accidentally giving your computer the Wrong Impression, you might accidentally give EVERY COMPUTER the Wrong Impression.
Pretty soon you are seeing ads for BLEACH & WOOD CHIPPERS and fielding visits from the Police. We don't want to waste the officer's time!
This is an ERA of NUANCE
This is not a time for broadcasting SECRET THOUGHTS. This is a time for careful consideration. This is a time for making sure that the uncertainties, bafflement, and incredulous confusion of an age can be expressed AS CLEARLY AS POSSIBLE
IT IS TIME FOR THE INTERROBANG
The INTERROBANG‽ is a special punctuation mark devised by a team of hero punctuators led by Martin K. Speckter in 1962. Like hero scientist Alan Turing, they saw an urgent need and leapt into action. The INTERROBANG is perfect for those moments when you are neither asking a question nor making an exclamation, but doing both at once. Friends, I don't know about you, but this happens to me ALL THE TIME.
She said what‽
I owe how much in taxes‽
You're breaking up with me‽
Invade Afghanistan‽
I have a SPECIAL CHALLENGE for you.
On your keyboard, type an INTERROBANG RIGHT NOW…
YOU CAN'T!
SURPRISED‽
For all our science and advancement, we are still talking to computer using PRE-1962 TECHNOLOGY. Friends, this is a Shambles. It's time that we did something about this and that time is now. Let us talk to our computers properly. Let us make sure that we are always giving them the Right Impression.
REPLACE CAPS LOCK WITH INTERROBANG
…
WHAT ARE YOU WAITING FOR‽